Hospitality Education in Switzerland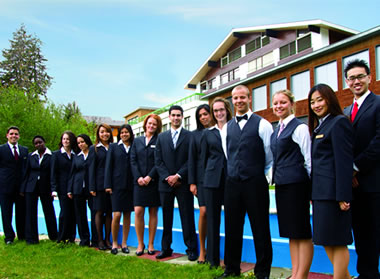 Switzerland is the world leader in hospitality management. Our schools and universities occupy the top positions in industry rankings. Because of Switzerland'stop leading luxury hotels and resorts, the Swiss culture is globally recognized as a symbol of excellence and distinction in hospitality.
Why Switzerland
Switzerland is the first place where hospitality education was invented, hundreds years ago when the first palace-style hotels were built for royalties, wealthy individuals and business icons. Switzerland established the global standard of excellence in the culture of hospitality education. Today, having a degree in hospitality from Switzerland, places you among the top elite hospitality professionals hunted by top hotels, resorts and industry block-busters worldwide.
Why the School of Hospitality Management at CCU
The School of Hospitality Management at CCU represents the philosophy of the traditional Swiss culture of hospitality education. A tradition where Swiss industry experts and hospitality icons come together to develop an outstanding curriculum that could be offered both on campus in Switzerland and/or via one of the international campuses of CCU around the world. The unique corporate culture of CCU complemented by the outstanding team and faculty in the School of Hospitality Management ensure that your professional career will be forever changed with a degree from the School of Hospitality Management at CCU. The school offers two programs, the Higher Swiss Diploma in Hospitality Management and the Swiss Master in Hospitality Management.

Please feel free to download the Program Brochure in PDF format by clicking on the link below, for further information, please contact the registrar office at registrar@cambridgecu.ch
Hospitality Brochure

Undefined